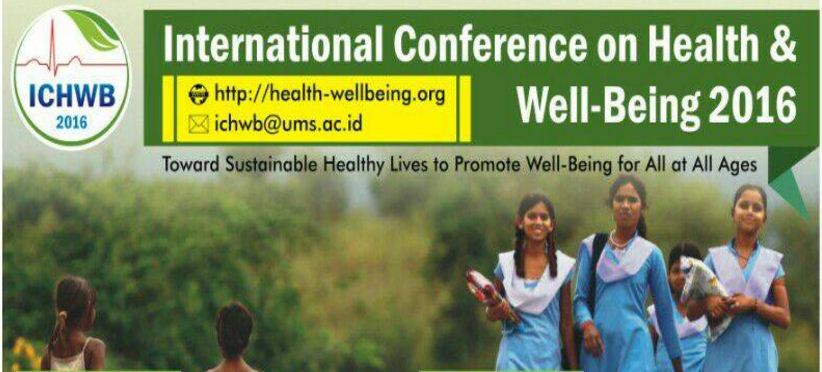 International Conference on Health & Well-Being 2016
Milenium Development Goals (MDGs) yang dicanangkan oleh World Health Organization (WHO) telah menuai sukses di berbagai aspek (UN, Summary The MDGs Report 2015). Meskipun prestasi yang signifikan telah didapatkan pada banyak target MDG di seluruh dunia, banyak masalah masih ada di beberapa negara. Pengalaman MDGs menawarkan banyak pelajaran untuk mempromosikan pembangunan global yang berkelanjutan (Sustainable Development Goals; SDGs), secara resmi dikenal sebagai Transformasi Dunia sebagai agenda global WHO mulai 2016 hingga 2030. Pemimpin dan pemangku kepentingan serta pekerja profesional di setiap negara didorong untuk bekerja sama dalam mencapai SDG dengan menerapkan strategi untuk mempromosikan kesejahteraan bagi semua orang di segala usia.

Sebagai bentuk dukungan agenda global SDGs, Fakultas Ilmu Kesehatan bersama dengan Fakultas Psikologi Universitas Muhammadiyah Surakarta akan menyelenggarakan Seminar Internasional dan Call for Paper"International Conference on Health & Well-Being (ICHWB) dengan tema Toward Sustainable Healthy Lives to Promote Well-Being for All at All Stages". Rangkaian kegiatan ICHWB akan diselenggarakanpada tanggal 27 – 28 Mei 2016, di D'Wangsa Lor-In Hotel Surakarta dengan mendatangkan keynote speakers dari Malaysia, Philipine, Thailand dan Kemenkes RI.