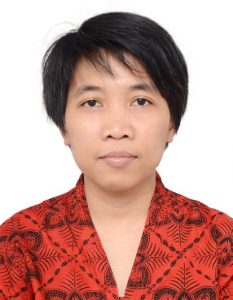 Prof. dr. Ari Natalia Probandari, MPH., Ph.D.
Faculty of Medicine, Universitas Sebelas Maret
Jln. Ir Sutami 36 A, Jebres, Surakarta, Jawa Tengah, Indonesia, 57126
ari.probandari@staff.uns.ac.id
Pengendalian Penyakit Menular dan Tidak Menular, Health Systems and Policy Research
Ari Natalia Probandari adalah guru besar/profesor di bidang Public Health. Prof Ari menyelesaikan studi kedokteran di Universitas Gadjah Mada, dan master serta doktoral di Umea University, Sweden. Saat ini beliau juga menjabat sebagai kepala program studi Doktor Kesehatan Masyarakat Universitas Sebelas Maret. Beliau aktif sebagai section editor dan reviewer pada beberapa jurnal internasional bereputasi seperti BMC Health Services Research, PLoS One dan Global Health Action.
Fokus Penelitian: Riset implementasi pada pengendalian penyakit menular dan tidak menular, termasuk Tuberkulosis, Neglected Tropical Diseases, Hipertensi dan Diabetes, health systems and policy research.